Name of Organisation
<![if !vml]><![endif]>

Guide Dogís Lutterworth District Team provides a flexible and response service for blind and partially-sighted people living in Leicestershire, Rutland and Northamptonshire.

The team trains and assesses the needs of blind and partially-sighted clients - new and existing - matches them with guide doges (where appropriate) and provides a high level of aftercare and rehabilitation services.

If you need more information on Lutterworth District Teamís services please get in touch by telephone, email or in writing.

Right: The majority of dogs brought to

Lutterworth for training are Labradors.
<![endif]--><![if !vml]>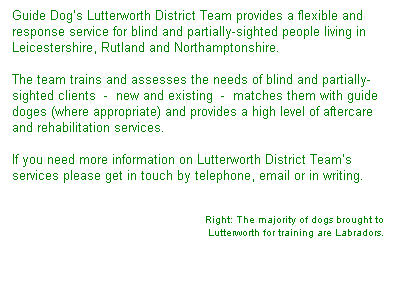 <![endif]>Guide Dogs - Lutterworth Branch
Telephone Number
01455 555566
Web Site
www.guidedogs.org.uk
Email Address
lutterworth@guidedogs.org.uk
Principle Contact
Dave Stanton
Opening Times
Mon to Fri, 8:30 am to 4:30 pm.