Name of Organisation
<![if !vml]><![endif]>

Community Computer Centre

The Community Computer Centre - C3 - offers free access to computers for all local residents of Lutterworth and the surrounding villages. Courses are currently on offer for complete beginners, internet and email users and learners, and intermediate word processing users and learners. Open sessions (with friendly guidance) take place in the afternoons (Mon-Thu) for those who wish to drop in and simply use a computer or who wish to consolidate what they have learned on previous C3 courses. Free Broadband internet access is available in all sessions. For the future, courses are planned for Computers for Digital Photographers, Desktop Publishing, Spreadsheets, and Databases. Other courses may be available. Contact us to discuss your needs. The atmosphere is welcoming and friendly.

If you:

Lack the confidence to enrol on a formal course

Think you are too old to learn

Have a disability or mobility difficulty

Can't afford a computer

Are rurally isolated and cannot access other services

C3 can help you:

Learn about internet and email access.

Produce posters and leaflets for your community group.

Compose you CV or word process a formal letter

Do your homework or on-line research.

One to one and small group tuition is available.
<![endif]--><![if !vml]>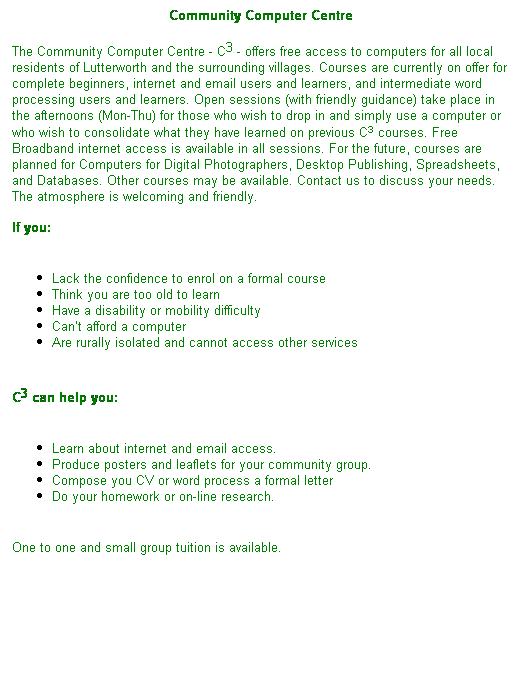 <![endif]>Community Computer Centre
Telephone Number
01455 555577
Facsimile Number
01455 555572
Web Site
Under Construction
Email Address
janeb@onestopshop.eclipse.co.uk
Principle Contact
Jane Beaumont
Opening Times

Mon to Thu 1:30 pm to 4:30 pm for walk in access sessions.

Courses by arrangement.

<![if !vml]>

<![endif]>